Heating, cooling and dehumidifying - heat pumps have it all. Except, perhaps, a name that does their versatility justice. Heat pumps look and function the same as air conditioners for cooling, but in cool months when heat is called for, they reverse operation to provide warmth for your home. If you live in a colder environment, electric-powered heat pumps are great in combination with your oil- or gas-fueled furnace as a Hybrid Heat® solution, which can result in significant savings on your overall heating costs.
Select a model below to learn more.
Carrier Infinity® Series Heat Pump System with Greenspeed® Intelligence
The pinnacle of Carrier® engineering, our Infinity series heat pump with Greenspeed® intelligence offers precise heating or cooling, unwavering comfort, uncompromising energy efficiency and ultra-quiet cooling performance.
Carrier Infinity® Series Heat Pumps
The Infinity series heat pump is part of an intelligent, communicating system that delivers superior comfort, quiet performance and enviable efficiency in both heating and cooling modes. In fact, all Infinity models and sizes have earned the ENERGY STAR® qualification.
Carrier Performance™ Series Heat Pumps
Calling it the Performance & Flexibility & Efficiency series proved to be too much of a mouthful, but these units certainly deserve the name.
Infinity® 24 Heat Pump With Greenspeed® Intelligence
The Infinity 24 heat pump with Greenspeed intelligence takes Carrier's most advanced technology to the next level. If it looks like next-gen technology, that's because it is.
Greenspeed intelligence is created by pairing adaptable-speed technology with the Infinity® System Control. The unique, variable-speed compressor of this unit, allows it to literally adapt its output to the needs of the home. With infinite adjustments between 25 and 100% capacity, it gives the home only the amount of cooling or heating necessary.
This allows the system to operate longer at steadier, lower capacities, which ensures incredible energy efficiency and quiet operation with tighter temperature control than standard systems.
Standard Features
Overall Efficiency: All sizes ENERGY STAR® certified

Cooling SEER: Up to 24

Cooling EER: Up to 16

Heating HSPF: Up to 13

Compressor Type: Variable-speed

Sound Level (As Low As): 51 decibels

Silencer System II Design: Yes

Compressor Sound Blanket: Yes
Infinity® 18VS Heat Pump - 25VNA8
The Infinity 18VS heat pump is different in a lot of ways. It offers variable-speed compression that can step down in 5 stages to as low as 25% of its capacity. That's huge from a comfort perspective. The ability to run in lower speeds most of the time makes it quieter and more adept at removing humidity in the summer. It's also significantly better than a 2-stage unit at keeping temperatures even. Plus, those lower speeds are the sweet spot for the unit's best efficiency levels and for getting the most benefit out of other systems you might have like an air purifier because of more constant air flow through the system.
And, it's seldom you can upgrade your system a component at a time. Most often, the leap to higher efficiency and better comfort via a communicating system for that home you love, can mean you have to deal with the cost of a whole system even though only your outdoor cooling unit has called it quits. The Infinity 18VS could change that for you. Your Carrier® expert can help you determine if it can work with your existing indoor unit so you can upgrade in steps.
Standard Features
Up to 18 SEER cooling efficiency

Up to 11 HSPF heating efficiency

Sound: as low as 55 decibels

Optimal humidity and temperature control when managed by the Inifinty Touch control

Variable, 5-stage compressor operation for ultimate comfort and quiet

Compressor sound blanket and Silencer System II™ design

Filter drier system protection from moisture and contaminants

Ideal Defrost heating operation with Infinity control

WeatherArmor™ Ultra protection

Non-ozone depleting Puron® refrigerant

10-year parts limited warranty
Optional Features
Optional labor warranty available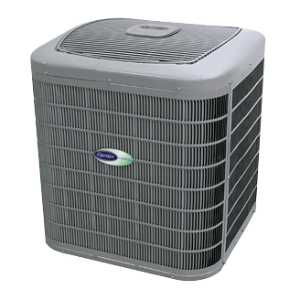 Infinity® 16 Heat Pump - 25HNB6
Infinity series products represent the pinnacle of our communicating technology. In a heat pump, this advanced system enables some of the best comfort features and energy saving advancements.
With the Infinity 16 heat pump you can enjoy two-stage compressor comfort, exceptional cooling and heating efficiency and, when paired appropriately with the Infinity control, greater energy savings and convenient system management features.
Should you choose to add an Infinity furnace with variable-speed blower motor you can have an energy-smart, Hybrid Heat® system with exceptional year round comfort and savings.
Standard Features
Up to 17.5 SEER cooling efficiency

Up to 9.5 HSPF heating efficiency

Sound: as low as 67 decibels

Superior humidity and temperature control

Two-stage compressor operation for excellent comfort and quiet

Compressor sound blanket and Silencer System II™ design

Filter drier system protection from moisture and contaminants

Ideal Defrost heating operation with Infinity control

WeatherArmor™ Ultra protection

Non-ozone depleting Puron® refrigerant

10-year parts limited warranty
Optional Features
Optional labor warranty available