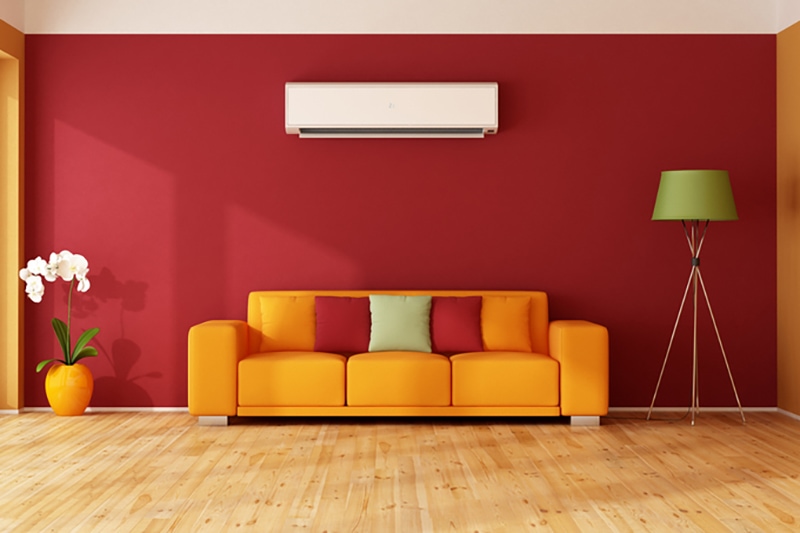 Ductless mini splits are so easy to love. 
These heat pump-powered systems can heat and cool your entire Utah home or select areas such as garages and guest room additions.
They deliver heating and cooling more efficiently than ducted systems and let you adjust the temperature from room to room.
They are cleaner than ducted heating, ventilation, and air conditioning (HVAC) and have just as many bells and whistles, including Wi-Fi capability and smartphone controls.  
If you think a ductless mini split might be right for your Spanish Fork home, let Gillette Heating and Air help you make it a reality. We can recommend the best system for the size of the space you want to heat and cool and install a system in one day. We also maintain and repair ductless mini splits. 
How Mini Splits Work
A ductless mini split is a split system, as the name suggests. One unit, which contains a compressor, condenser, and fan, is stationed outdoors. You can create a cooling-only system with an air conditioner or a heat-and-cool system with a heat pump.
Electrical wiring, refrigerant tubing, and condensate drain lines connect the outdoor unit with one or more indoor air handlers.
Unlike ductwork that requires openings in walls for air supply and return vents, a mini-split needs a small hole for wiring and tubing to connect to an air handler. The air handler contains the evaporator coils, a filter, and a fan to blow conditioned air into the surrounding area.
Indoor units typically mount to a wall. They also can hide above the ceiling or stand on the floor as a console. You can use just one air handler to heat and cool one room or outbuilding, such as a garage, guest house, or standalone workspace. Or you can connect multiple units.
At Gillette, we proudly offer Carrier products—including ductless systems. Carrier's Performance™ series offers a multi-zone heat pump system that supports up to five indoor air handlers. The Infinity® High Wall indoor air handlers have built-in Wi-Fi and a sensor to customize the humidity level.   
Mini Split Advantages
If you plan to heat and cool one room, perhaps an addition to your home or a sunroom, a ductless mini split is easier and faster to install than extending ductwork. Adding a ductless system makes sense for a detached garage or other buildings where you cannot extend ductwork.
If you need to heat and cool your entire home, which has no ductwork or has damaged ductwork, a ductless mini split may be a great option.
Ductwork gets dirty over time and is a conduit for dust and other debris that wafts into your air return and gets blown out of your air supply vents. Mini split air handlers have no ducts to collect dirt. They filter out debris before blowing it into your home. 
Conditioned air can escape through holes or cracks in air ducts, forcing ducted systems to work harder and use more energy to heat and cool your home. According to the U.S. Department of Energy (DOE), duct losses can account for more than 30 percent of energy consumption for heating and cooling.
Mini splits are more energy efficient than traditional systems because they have no duct air loss. They also use inverter-driven compressors that constantly adjust heating and cooling output to maintain the thermostat settings. Traditional systems cycle on and off and use more energy in the process.
Ductless mini splits enable you to set different temperatures throughout your Spanish Fork home. You can dial back the heat or cooling in an unoccupied room without affecting other areas. Every bedroom has its own temperature control, ending family thermostat wars.
Tax Incentives
Ductless mini splits typically cost more upfront than ducted heating and cooling systems, but they can save you money in the long run. Tax credits, available through 2032, can help you pay for a portion of ductless mini split installation. You can claim up to $2,000 for qualifying heat pumps and ductless mini splits.
Some homeowners may consider frequent filter maintenance a drawback. Manufacturer instructions typically recommend cleaning air handler filters once or twice monthly. The rule of thumb for ducted systems is replacing filters at least every 90 days and inspecting them monthly.
Go Ductless Today
Gillette Heating and Air can help you turn a ductless space in your Spanish Fork, UT, home into a comfortable, livable environment. Ask us about ductless mini splits today. Call us at 801-465-7760 or request service online.